Due to a warehouse move all wheel shipments will be delayed until Monday 12/22.
details
transcript
Video: SVE Mustang Aluminum Radiators, Hoses & Fans
Published on 2013-08-07
Description
The major byproduct of extra performance is more heat. Help combat that extra heat with our SVE performance aluminum radiators for 1979-09 Mustangs! Only available at LatemodelRestoration.com, these high quality money saving radiators will help you protect your high performance engine. They are available for both automatic and manual transmissions.

They feature a lightweight all aluminum construction and larger than the factory coolant capacity for improved cooling capabilities. These are a must for all Fox Body owners due to their extremely small factory radiators. Don't forget to pick up the SVE radiator hoses, fans and overflow tanks to finish off your upgrade. Save money and time by buying one of our SVE radiator kits. Stop worrying about your Stangs cooling system and upgrade it with a SVE radiator today!
Transcript
JONATHAN MCDONALD: Adding horsepower to your Mustang is great, but one of the byproducts of more power is more heat. One of the most overlooked performance upgrades is the cooling system, as the stock setup simply cannot keep up with heat transfer at the higher power levels. We understand the need for increased cooling capacity. So we developed the SVE line of Mustang radiators, fans, and complete cooling system kits.

The aluminum radiators feature a massive 2-inch core that's fully brazed. And the tanks are welded on. They accept the stock electric cooling fans, overflow bottles, and in the case of a Fox body, your stock clutch fan and fan shroud.

SVE electric cooling fan kits bolt directly to the radiator and require minimal wiring to get them up and running. We even offer a slim-line aluminum overflow tank that's compatible with our SVE electric fan kits. You can even pick up a complete kit, like this '79 to '93 5.0 version, that includes a radiator, fan, fan controller, hoses, thermostat, thermostat housing, and overflow tank. Help your Mustang keep its cool by picking up any of these SVE cooling system components at latemodelrestoration.com.
SVE Mustang Aluminum Radiators, Hoses & Fans
Posted 8/7/2013 by Jeff Jimenez
FOLLOW: mustang , 79 93 mustang , 94 04 mustang , 05 09 mustang , fox body , sn95 , s197 , video , sve , engine , radiator , cooling system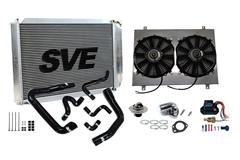 Get your Fox Body, SN-95, New Edge & S197 Mustang cooling system ready for the hot summer with SVE cooling products. SVE radiators are available for 79-09 Mustangs and are also available for both manual and automatic Stangs. Best of all these radiators are put in money saving kits that feature many of the top selling cooling system parts and hardware needed when upgrading your radiator.
The SVE aluminum radiators feature large over-sized multi-core designs for maximum fluid capacity and cooling. Their quality design and affordable pricing allow any Mustang enthusiast to easily upgrade their cooling system. When "moding" your Stang don't forget to overlook your cooling system - especially on your 79-93 Fox Body Mustang that features a scrawny factory radiator. Don't forget to add SVE radiator hoses and high flow aluminum fan & shroud kits to your finish off your cooling system upgrade.
Save yourself time and money by picking up one of LatemodelRestoration.com's SVE Radiator kits. Shop radiators and kits below!
---