Industry leading service and pricing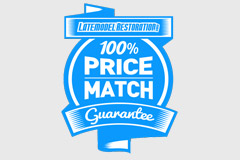 LatemodelRestoration.com is committed to leading our industry in service and pricing. We work diligently to bring you exceptional products at a great value. When purchasing with LatemodelRestoration.com, you are guaranteed a knowledgeable staff of enthusiasts that share your love of Ford Mustangs and SVT Lightnings. LatemodelRestoration.com is proud to be a "brick and mortar" company with a foundation built on knowledge, experience, service and value.
In stock parts and free same day shipping
We pride ourselves in services that make your shopping experience the best in the industry. We stock 99% of our inventory under our own roof and offer free same-day shipping with no hidden fees. Our hassle-free returns policy is the best in the industry.
Price match guarantee
LatemodelRestoration.com works hard to stand behind exceptional products at a great value. So, if you happen to find a product from a competitor at a better value, we would love to have the opportunity to beat it! We go the extra mile to ensure our product is priced competitively, so we always want to know when we're being undersold on price. This is why we are willing to meet or beat the competition's pricing, without sacrificing the service we're known for.
We refuse to be undersold on price, and can't be beaten with service!
This is our commitment to you, our valued customer.
To take advantage of our price match policy, you simply need to give us a call at (254) 296-6500. One of our Customer Care Representatives will be glad to assist you with our pricing questions. Be sure to have information about the competitors product ready when you call. This includes website information and part numbers.
---