79-93 Mustang Hurst & B&M Performance Automatic Shifters
Slam gears in your Fox Body Mustang with a performance Mustang automatic shifter! Check out our tech article to get the right shifter for your 79-93 Mustang!

By far one of the most popular upgrades for performance Mustangs is installing an aftermarket shifter.  High performance Mustang shifters are aimed toward the 5 speed and the 6 speed standard transmission crowd because the majority of the Mustangs out there being modified have manual transmissions. Not everyone out there has a manual transmission. More and more gearheads are switching to the automatic for ease of driving and undoubtedly more consistent E.T.  The problem with that is there are only a few options for automatic shifters that work with your factory console.  The stock shifter won't let you properly select a specific gear to stay in and it's easy to skip a gear when trying to shift manually. That is where LatemodelRestoration.com comes into play. Check out the following two solutions for automatic fox body Mustang shifters.


Mustang 5.0L AOD B&M Hammer Shifter
If you have a street car that sees occasional drag racing action, the B&M Hammer Shifter is a great option for you. It's polished aluminum handle and illuminated gear indicators make it a great addition to any street car.  It is designed to work with the factory console and has a full ratcheting mechanism for positive up-shifts or down shifts. It has a neutral safety switch and reverse lockout so it complies with NHRA & IHRA rules and regulations.


Buy the B&M Mustang Hammer Automatic Shifter Here
1987-93 Mustang 5.0L Aod B&M Hammer Shifter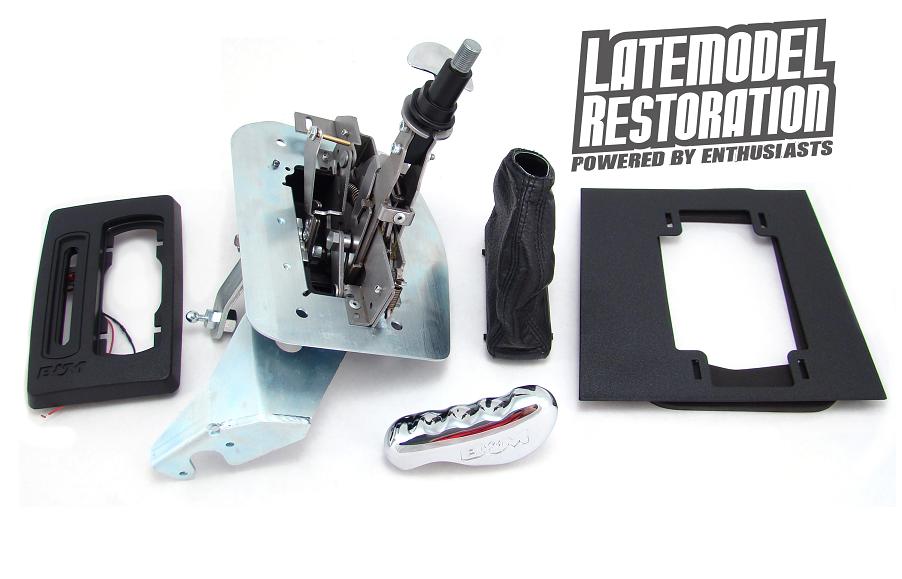 Mustang Hurst Quarter Stick Shifter
If you want to take it to the next level of performance and have a slightly more purpose built "Weekend Toy" then you might want to step up to the Hurst Mustang Quarter Stick Automatic Shifter.  This shifter is normally designed for cars that don't have a console but we have put together a kit that allows it to be used in 1979-1993 Mustangs and still retain use of the factory console.  This is made possible by a custom mounting bracket adapter plate that allows the Hurst Quarter stick to be mounted in the stock shifter location.  It simply bolts into the factory shifter hole that is in the floor and acts as a cradle for the Hurst quarter stick.  Since it's in the factory location you can have your all out race shifter while keeping a street car interior look.

Check out all of the 79-93 Mustang shifter options for your Fox Body Mustang below!
---
Automatic Mustang Shifters
---