Shipping Alert!
Due to a warehouse move all wheels & wheel tire kit shipments will be delayed until Monday 12/22.

details transcript
Video: Fox Body Mustang Replacement Carpet Installation
Published on 2013-12-13
Description
Got worn stinky carpet in your Stang? You don't have to live with that eye-sore! Watch this video as Jmac shows you how to greatly transform the interior of your Foxbody by installing some ACC replacement carpeting. To remove your old carpet you will have to remove your seats, center console and some of the interior panels. Installation of the new ACC Carpet will require you to make a few cuts for seat track holes, emergency brake and shifter.

The ACC replacement Mustang carpet is pre-formed and molded. It also includes factory style padding and is also available in mass back version for extra sound deadening (reducing)! Our ACC carpet comes with a 1 year warranty that covers you against defects in material and workmanship!! Click the link above to see our full selection of Mustang Carpets!!

Available In The Following Colors:
Black
Charcoal Gray
Crystal Blue
Canyon Red
Smoke Gray (Dark Gray)
Wedgewood Blue (Academy Blue)
Light Gray
Ruby Red
Opal Gray
Scarlet Red
Regatta Blue
Tan (Sand Beige)
Dark Charcoal
Parchment
Saddle Tan
Graphite
Transcript
If you own a '79 to '93 Fox Mustang, more than likely your carpet is showing signs of fading, staining, and might even smell like an old gym sock. Replacing your car can seem like quite a daunting task because you do have to remove a good portion your interior to even get your old carpet out. Then you have to go through and carefully mark, and then cut, holes in your brand new carpet.

Luckily it's not all that bad, although it is time consuming. We can show you all the steps that you'll need to do to get the job done. Now this is reproduction carpet. It will not fit exactly like the factory. But if you put in the effort this carpet will lay down, look, and smell a lot better than that stained stinky carpet you have right now.

First things you're going to want to do is watch our seat removal video and our console removal video to get those out of the way so you can get your old carpet out on the floor. Unbox your new carpet and unfold it. And work your way around forming it back into shape. The warmer the temperature is the easier your job will be.

Place your new carpet face down and lay your old carpet over the top. Position it as closely as possible to the new carpet and use a marker to trace all of the openings for the shifter, emergency brake, seats, and seat belts. These will be close, not exact. When you start cutting cut small. You can cut larger once the carpet is in the car.

With all of your holes rough cut, lay the carpet out in the floor pan of the car. Tuck it up under the dash and along the firewall. You may have to remove your dead pedal if you're cars equipped with one. Starting along the transmission tunnel, enlarge your cut outs as needed to fit properly.

Make sure and pull through all of your wiring harnesses. From underneath the car you could locate can cut out the rear seat track bolt holes. Install your lower shifter boot if you have a manual transmission. Finish working your way around locating and enlarging all the needed holes for your seats and seat belts. If you find yourself with any randomly wrinkles you can use the hairdryer to help smooth those out.

For just a few hours of your time, you can drastically improve the looks, and the smell, of your Fox Mustang. Pick up your new carpet and floor mats at latemodelrestoration.com. Like and share this video with your friends. Comment below and let us know what other types of videos if you'd like to see.
Fox Body Mustang Tech: How To Install New Replacement Carpet
Posted 1/20/2014 by Jeff Jimenez
FOLLOW: 79 93 mustang , mustang , fox body , video , installation , acc , interior , carpet
Replacing the smelly worn carpet in your Fox Body Mustang is a major part of any interior Resto project. All too often on these 20+ year old vehicles the carpet has been stomped down with dirty shoes and had countless drinks and food spills throughout its life. That is way we offer a full line of replacement carpets in all your favorite factory colors. Check out all of our 1979-93 carpets here: Fox Body Mustang Replacement Carpet.
You might be thinking that replacing your old carpet is a major undertaking and in some ways, yes it is. It isn't overly complicated; however, it does require roughly half a day to complete from start to finish. Make sure you allow yourself plenty of time to complete the job and this installation will be one of the best investments you can make in Mustang! You will be amazed at "new car" smell and improved looks. You might even find that old Vanilla Ice cassette that went missing back in the day!
Don't forget to finish off the installation with a set of new logo floor mats to give your Mustang a complete interior carpet restoration! Shop our full line of mats here: Fox Body Mustang Floor Mats. Watch the video and read the simple walk-through guide below. If you have any questions, give us a call at 254-296-6500. Don't forget to like and share this article with your fellow Mustang Enthusiasts friends!!
Tool Needed:
Common Tool Set with sockets, ratchet & screwdrivers
Carpet Knife
Heavy Duty Marker
Mustang Carpet Installation Guide:
Remove the new carpet from the box. Unfold it and let it set in the sun. This will help the carpet become more flexible.
Remove your seats. See our removal video here: Fox Body Mustang Seat Removal
Remove your center console. See our removal video here: Fox Body Mustang Center Console Removal
Remove the remaining interior panels such as scuff plates and kick panels
You can now remove the old carpet.
Lay the new carpet face down and lay to old carpet over it.
Make sure you align both carpets the exact same way. Take your industrial strength market and use the old carpet as a guide to draw the needed holes to be cuts.
Toss the old carpet aside and start cutting out the major holes. Be sure to CUT SMALLER THAN THE MARKED HOLES! You can fine trim later and you don't want to make a cut you can't repair.
Lay the carpet into place. Make sure you press the carpet down and situate it exactly where you want it to lay down. You can use a hairdryer to work out winkles. DO NOT put the hairdryer to close to the carpet and we don't recommend heavy duty heat guns.
Start trimming the carpet into place. Make sure the carpet doesn't interfere with the shifter and emergency brake. You can lay the center console into place for reference to ensure you don't cut back to much.
Once trimming is done. Reinstall on your panels, console and seats.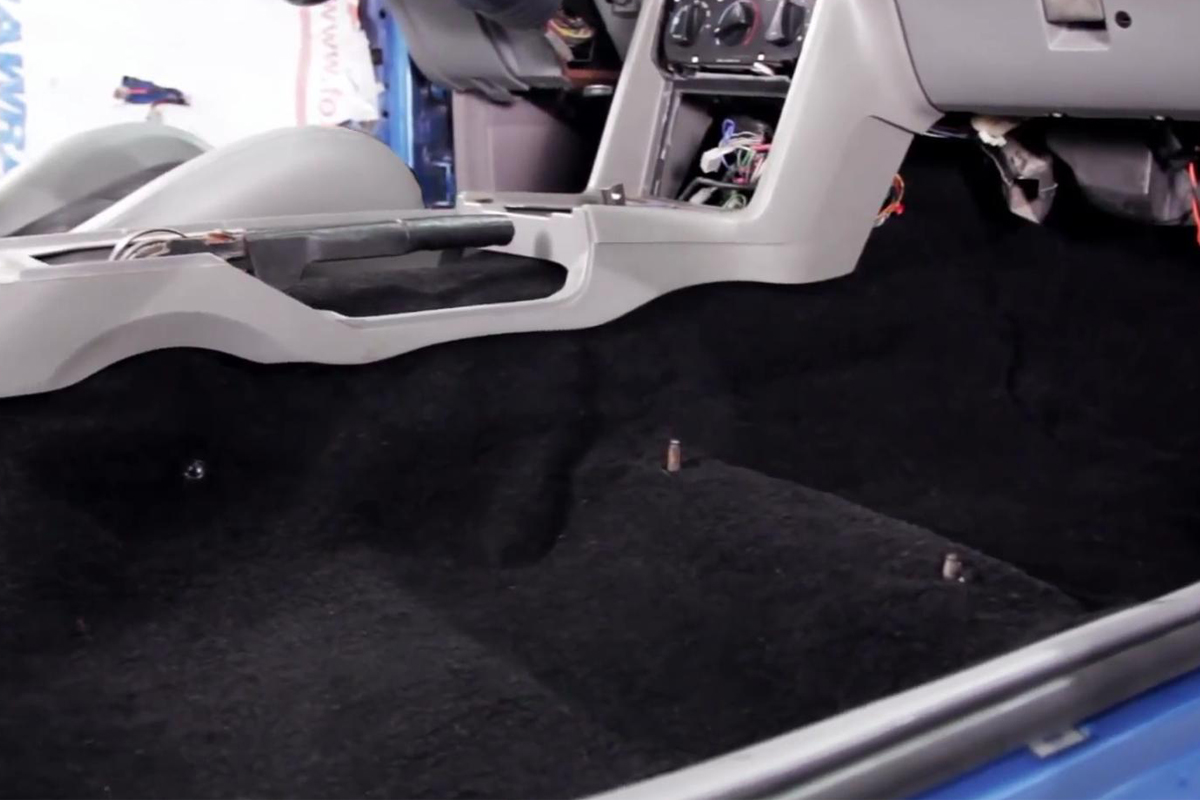 ---