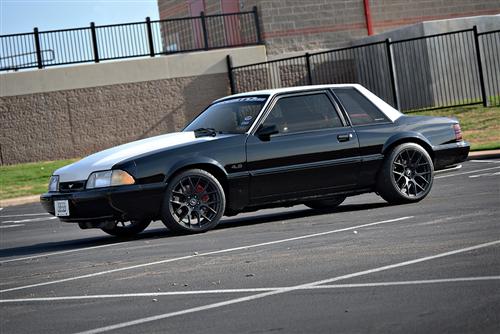 1993 was the last year the Mustang was offered with the Special Service Package and the last year it was ordered by law enforcement agencies. I came across this one in December of 1999; I was on the hunt for a new ride after my 1988 GT met an untimely end. It belonged to Scott Springer, who is now our General Manager. We struck a deal and I drove off in my first coupe! Scott and I became friends, which ultimately led to me coming to work at LatemodelRestoration.com in 2003, but that's a whole other story. The car served in McLennan County as a Texas State Trooper patrol car. Prior to the release from service, she was painted single stage red to cover the black & white scheme known to be used on Texas DPS vehicles. She was also equipped with the solid Ruby Red interior, which I pretty much hated at first, but have now come to appreciate. Sometime in 2000 she was re-sprayed solid black and stayed that way until January 2003. As the odometer showed 176,000 when purchased, she saw three engine and transmission swaps and multiple other mods and upgrades between 2000 & 2003. In January 2003 with the odometer showing over 210,000 miles, I stripped her down to nothing and began on the long journey which produced the finished product you see today. All in all, my 1993 Mustang has performed admirably. There are still changes to be made to get her closer to my goal, but I have learned quite a bit along the way. So far she has seen lots of open track time and is a blast to drive. On the 1/4 she has gone 12.30 @ 109mph on 275/40/17 Nitto drag radials. On the open highway, 23mpg is the norm all while the cruise is set and the A/C is blowing cold. It's pretty rare to get the whole package and I wouldn't trade her for the world!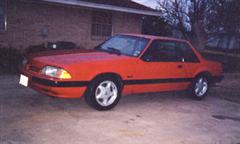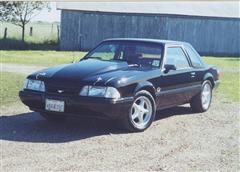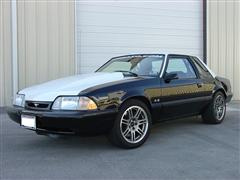 Exterior
The exterior of the 93 is covered in PPG paint and is the same black and white color scheme that would have been used when the car was in service. Upgrades are very few consisting of a 2.5" Fiberglass Cowl Hood, 84 SVO Taillight Lenses, a 1993 Cobra Grille Insert, and a pair of 4.6 Fender Emblems that I painted satin black. When the paint was dry she received the full host of trim and weatherstrip that we offer in our 50Resto Exterior Renewal Kit, along with a brand new pair of OE Carlite Quarter Windows (no longer available – sorry guys!). I chose to stick with the OE style Headlights with Amber Sidemarkers.
Interior

As stated earlier, the interior color is solid Ruby Red. Everything. This was almost a deal breaker for me and it was always in my plans to convert the interior to black. However, when I tore the car down in 2003, I just couldn't bring myself to carry through with it. I completely cleaned all the panels and sourced a dash and front seats from a four cylinder hatch as the stock dash looked a bit like Swiss cheese and the driver front seat was quite worn from her days in service. I selected ACC Mass Back Carpet to quiet down the interior a bit along with a set of plain floor mats in the matching hue. The Shifter Knob and Parking Brake Handle are black leather wrapped pieces from a 1994-1998 Cobra. The factory leather wrapped steering wheel was treated to a re-cover and the cluster retains the 160mph speedometer. For safety, I added a Maximum Motorsports 6-point Roll Bar and Corbeau 5-point Harnesses. I was lucky as the only items I had to replace were the Door Armrest Pads. I removed the center console arm rest and filled in the hole with our Console Armrest Delete. The door panels, headliner, sun visors, etc. are all still original to the car.
Powetrain

My original plans for the 93 called for a 351W swap. As fate would have it, just as the car was finishing up at the paint shop, I came across a smoking deal on a 2001 Cobra crate motor. This completely changed the course of the build and I'm glad it did. The engine is stock intake to oil pan and laid down a straight up 300hp and 300lb-ft to the wheels. The only power adder is a Nitrous Outlet Mustang Nitrous Kit that adds 100hp to the wheels and 120lb-ft of torque. For engine wiring and controls I took a 1998 Mustang GT PCM and wiring harness & spent lots of hours making it a literal plug & play for the 93. All the factory gauges work along with the cruise & A/C! The tuning is handled via a Custom Tune & SCT Programmer. My exhaust system is composed of 1-5/8" long tube headers, a custom modified Bassani catted x-pipe, and a Flowmaster American Thunder Catback. To keep her cool, I coupled an SVE Aluminum Radiator with a stock 1994-96 GT electric cooling fan. Transmission:
The transmission is a standard issue Tremec T45 from a 1998 Cobra. I chose the 1998 Cobra unit for the upgraded shift forks and the fact it retains a mechanical speedometer drive with a 7-tooth speedometer drive gear. Plus it was available and cheap! A RAM Billet Aluminum Flywheel and RAM HDX Clutch transfer the power to the transmission and it is topped off with a Pro 5.0 Shifter. A Ford Racing Aluminum Driveshaft sends the power to the 8.8" Rear End. Rear Axle:
The Fox 8.8" rear axle housing was retained, but all the insides were beefed up. Moser 31-spline Axles with SN95 Flanges replaced the stockers and they mate with a Ford Racing Traction-Lok Differential. I chose FRPP 4.10 Gears to take full advantage of the 4.6L 4V engine's power curve. For durability, I added a Ford Racing Differential Girdle and Moser Differential Bearing Cap Studs.
Brakes and Wheels

Front Brakes:
The front brakes consist of our SVE Cobra style Front Brake Kit. Red powdercoat calipers, Powerslot Rotors, StopTech pads, and stainless braided hoses. To adapt the passenger side front hose to the body hard line, I used the Fox to SN95 Brake Hose Adapter. Rear Brakes:
SVE Rear Brakes are employed as well & feature red powder coat calipers with StopTech pads, PowerSlot Rotors, & Stainless Braided Hoses. I modified the rear axle brake hard lines with new line nuts & shortened them to fit the new disc setup. North Racecars Axle Brackets are used to keep the stock Fox track width. 1993 Cobra Parking Brake Cables keep the emergency brake functional. Master Cylinder, Booster, and Proportioning Valve:
Because of the Modular engine swap, I used the hydro-boost and master cylinder from a 99-04 Mustang GT. I utilized an 84-86 Proportioning Valve/Distribution Block and custom made my own brake lines to mate everything together. The distribution block was gutted & plugged with our 50Resto Proportioning Valve Plug. To adjust the rear brake bias, a Ford Racing Adjustable Proportioning Valve was added in. Wheels and Tires:
My 1993 LX Coupe started out with set of 17×9" OE Ford 10th Anniversary Cobra wheels wrapped in 275/40/17 tires all around. Currently, a set of 18x9" SVE Drift Wheels with 255/40/18 Nitto 555 tires sit up front and a set of 18x10" SVE Drift Wheels with 275/35/18 Nitto 555 tires sit out back.
Suspension and Steering

Front Suspension:
My original plans for the car had her heading toward drag strip duty. After I came to LatemodelRestoration.com on March 2003 I was introduced to open track driving. Then the 01 Cobra motor fell in my lap. Suddenly, I wanted to be able to take turns at speed & stop the car on a dime! At the time, the AJE k-member was the main one being used for modular Foxes, so that's what went on mine. Another very near future upgrade is to swap it out for a Maximum Motorsports k-member. The control arms are OE Ford stamps upgraded with Steeda X2 Ball Joints and Global West Delrin control arm bushings. Tokico Illumina Front Struts are used with a coil over kit and 325lb 12" springs suspend the front load. Maximum Motorsports Caster/Camber Plates help with the alignment and 94-95 Mustang spindles tie everything together. Rear Suspension:
To match the front suspension, Tokico Illumina Rear Shocks work with H&R Super Race springs. Maximum Motorsports Lower Control Arms along with Ford Racing HD upper control arms keep the axle attached. To keep the rear axle properly located while turning, I utilized a Maximum Motorsports Panhard Bar. Steering:
Steering chores are handled by an OE remanufactured 15:1 power steering rack & a Steeda Bumpsteer Kit. A Maximum Motorsports Steering Shaft ties the power steering rack to the steering column.
---