Video: 87-93 Mustang Mirror Hole Cover Install
Published on 2013-08-02
Description
Product: Mustang Mirror Hole Cover Kit
Brand: 5.0 Resto
Fits: Mustang LX, GT, Coupe, Hatch and Convertible
Year Models: 1987 (87) 1988 (88) 1989 (89) 1990 (90) 1991 (91) 1992 (92) 1993 (93)
LRS Part #: LRS-17709-KIT

Missing or broken mirror hole covers on your Fox Body Mustangs is a regular problem. Follow along as Jmac walks you through how to install/remove a set of Mustang mirror hole covers. This is the small triangular trim piece that fits on the inside of the door and covers the outside mirror mounting holes. The screws normally get over tightened and crack the plastic. Fits cars with power mirrors only. This kit includes both left and right mirror mounting hole covers and hardware. Molded in black.

Features & Benefits


Direct Replacement For OEM Mirror Covers


Includes Hardware


High Quality Reproductions Of The Originals


Correct Grain Pattern


Molded Black Plastic Construction


87-93 Mustang Mirror Hole Cover Install
Posted 8/2/2013 by Jonathan McDonald
Have missing or broken 87-93 Mustang mirror hole covers? Watch our Mustang install video to help you with replacing this commonly missing or damaged part.
---
FOLLOW: mustang , 79 93 mustang , fox body , video , installation , tech , 5.0resto , interior , door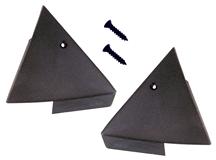 Just like finding a penny in any given parking lot, you'll find a broken or missing mirror hole cover in any given fox body Mustang. Heres what has always confused me - The parts are extremely affordable and even easier to install! Don't live with a broken or missing covers in your 79-93 fox body Mustang, Fix it with the help of this complete
50Resto Mirror Hole Cover Kit
. It includes RH and LH mirror hole covers as well as retaining screws. They are available in solid black only, but can be painted to match your interior color if desired or if you have 1993 Mustang with red or blue interior. Watch the video above and we'll show you just how easy it is to improve your fox body Mustang interior!
---