details
transcript
Video: Mustang Manual Transmission Hump Install
Published on 2013-09-12
Description
1979-93 MUSTANG MANUAL TRANSMISSION TUNNEL HUMP
Brand: 5.0Resto
Part #: LRS-7277A
Fits: Ford Mustang LX, GT
Years: 1979 (79) - 1980 (80) - 1981 (81) - 1982 (82) - 1983 (83) - 1984 (84) - 1985 (85) - 1986 (86) - 1987 (87) - 1988 (88) - 1989 (89) - 1990 (90) - 1991 (91) - 1992 (92) - 1993 (93)

Not many people realize that the 79-93 Fox Body Mustang has different shifter locations for automatic and 5 speed manuals. 5 speed conversions on Foxbody Mustangs is a popular project. With the low cost of Tremec T-5 transmissions and swap parts, it is an economical way to add some more "fun" factor to your automatic Stang. If you want to do this swap in your automatic Pony Car in the past, you were forced to chop and hack up your transmission tunnel hump. Thanks to 5.0Resto, this is no longer the case!!

Follow along with Jmac in this video as he shows you how to install the 79-93 Mustang Manual Transmission Tunnel Hump and finish off a 5 speed conversion the right way!

Don't forget to add a new lower shift boot to finish off this install or save time and money by buying the kit:

1979-93 MUSTANG MANUAL TRANSMISSION HUMP KIT
Transcript
0:00:01 - 0:00:31
Converting from automatic transmission to a manual transmission has been a popular swap since the dawn of the fox mustang however most people don't know that there is actually in deference in the transmission tunnels. The manual transmission equipped mustangs had a tunnel extension that allow for extra room around shifter area. If you're running a stock shifter well your lower shifter boot will probably bolt right into place but if you're running an aftermarket shifter hen your lower shifter boot is going to be hard-pressed to fit.

0:00:31 - 0:01:10
If you've done or planning to do an automatic to manual transmission swap on your fox mustang, we've got you covered with this 5.0resto transmission tunnel hump kit. This kit includes the metal transmission tunnel extension panel, twenty attaching rivets, a new lower shifter boot and shifter boot attaching hardware. To install you first need to remove your seats console and floor carpet. What you want to do is grab your tunnel extension and slide into place over your existing transmission tunnel. Align the left rear hole on the tunnel extension with the left rear hole in the existing floor pan.

0:01:10 - 0:01:41
Take your permanent marker and mark out the opening from the tunnel extension onto the floor pan. Then grab a cut-off wheel or a body saw and go ahead and open up the floor pan around the shifter. Using 1/8 inch drill bit, drill you one pilot hole at the front of the tunnel extension through the floor pan and one pilot hole at the rear of the extension through the floor plan. Step up to a 1/4 inch drill bit. Enlarge the hole and install one rivet in the front and on in the back.

0:01:41 - 0:02:11
You can install as many or as few rivets as you want. we include twenty. Instead of reviting, the extension can also be welded into place. Slide the four lower shifter boot retaining speed nuts over the four holes in the tunnel extension. Put the lower shifter boot over your shifter handle and bolt it into place. If you so desire you can wipe down the edges was seam sealer just to give it that finishing touch. This is the proper way to finish of an automatic to manual transmission swap.

0:02:11 - 0:02:15.540
Check out LatemodelRestoration.com for more restoration parts how-to and tech for your fox body mustang.

Mustang Manual Transmission Hump Install
Posted 9/12/2013 by Jonathan McDonald
FOLLOW: fox body , video , installation , 5.0resto , exterior , shifter , 79 93 mustang , mustang , tech , interior , body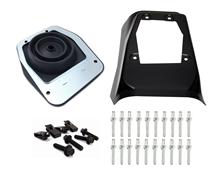 Swapping the AOD slushbox automatic for a manual transmission is a second nature urge to Fox Mustang owners. You can search the internet and find all the information you could ever hope to find on completing this swap. Except for one thing; no one ever mentions the difference in the transmission tunnel heights. The manual transmission Mustangs came from the factory with a tunnel extension that added extra height to the shifter area for proper fitment of the lower shifter boot.
Luckily, 5.0Resto comes to the rescue with the 79-93 Mustang Manual Transmission Tunnel Extension (also called the tunnel hump). It is available individually as well as in a complete kit with attaching hardware and a new lower shifter boot. With the carpet out of the way, it literally takes minutes to install. Watch the video above to see just how easy it is!
---