The official Ford reveal of the 2015 Mustang is finally here! Below you will find all the reveal and officially released information about the new S550 Mustang. That means no more rumors, spy photos, renderings, 3d models ect ect. We will finally see real world images and concrete information that you can expect to have available to you at the dealership.
We own a huge thanks to the guys over at StangTV.com for collecting a vast amount of the "official" 2015 Mustang information and specs. You can see their full write up at the bottom. While reading be sure to comment below and let us know what you think about the new S550 Mustang. We will be sure to continually update this information as more concrete information becomes available!!
2015 Mustang Models
GT - 5.0L V8
EcoBoost - 2.3L Inline Turbo 4 cylinder
3.7L V6
2015 Mustang Exterior
The exterior of the new S550 Mustang underwent some significant changes. The new pony car got wider more aggressive rear shoulders that meet up with a new rear end that features a modern take on the classic tri-bar style tail lights. There is a black decklid panel between the tail lights that features Mustang badging which will be different between models. The rear lower valance will now feature some color to go along with the black plastic. All pictures seen to this point show off a lower stream lined spoiler that sits on the trunk lid.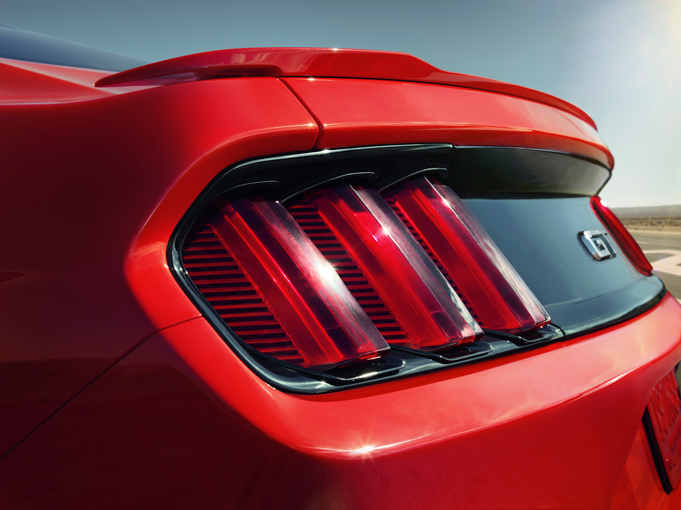 Upfront there again are some significant changes. The S550 Mustang will feature large upper and lower grille openings for maximum cooling capabilities. In the pictures below you will also see that the GT 5.0L model also has what appears to be functional hood vents. Unlike the 2013-14 hood vents, these have been pushed down closer the front bumper. The super aggressive looking headlights feature HID project style headlights with LED tri-bar accents upfront. Also below you will see the GT model features Fog lights that have been moved down to the lower outer section of the front bumper – gone are the 2005-14 upper grille mounted fog lights.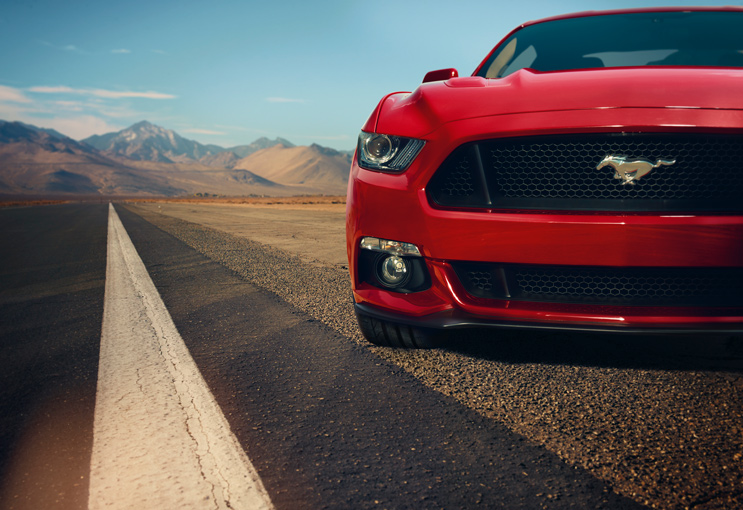 The S550 Mustang also features a much lower stance compared to previous models – which some previous models looked more like a truck stance than a sports car stance. This will make many people extremely excited. The lower side skirts are a black plastic finish that help give the Stang an added "lowered" look that I am growing very fond of. In the pictures below you will also see that the roof features lines that carry over and follow the lines of the hood. I am noticing that the 2015 Mustang's edgy design and smooth lines flow well and almost create a different look from about any angle you approach it from.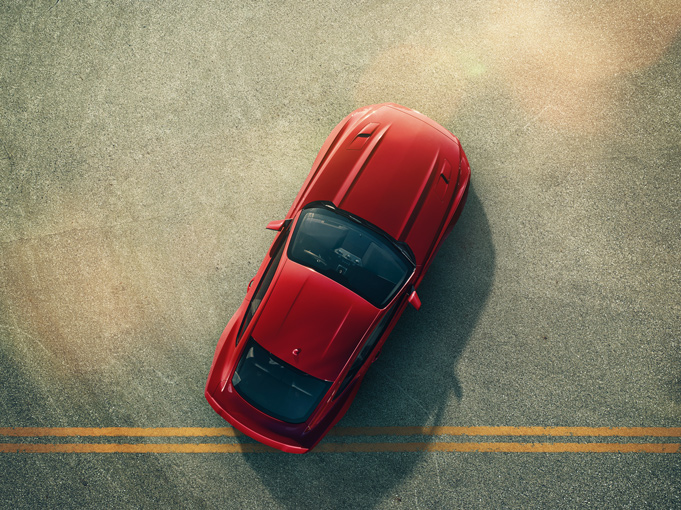 2015 Mustang Interior
The interior of the new S550 Mustang is one of the most stunning interiors I have seen in a long time! It is by far one of the best improvements I have seen in some time. Ford used real world materials to build the bulk of the interior – aluminum, leather and stitching. They also includes plenty of technology improvements such as MyFord Touch with SYNC & Navigation. There is now push button start and metallic flip switches that are reminiscing of the Ford GT. The steering wheel looks more like a control center than a steering wheel; thus putting all your information and comforts literally at your fingertips. The pictures below will speak volumes more than I ever could!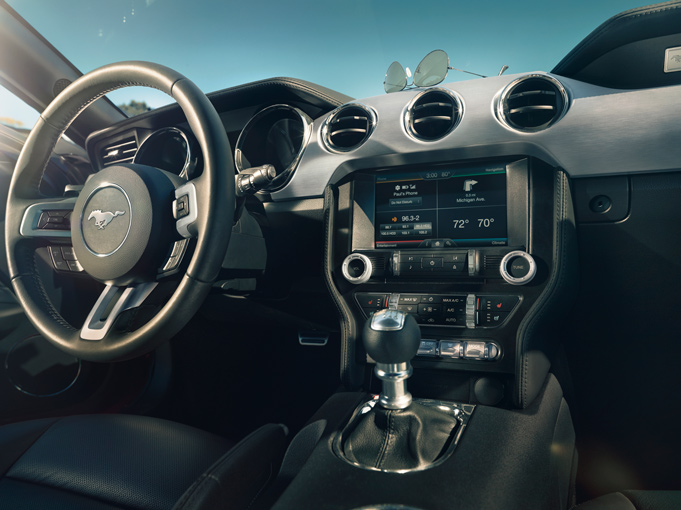 2015 Mustang Colors
According to Fords website the following colors will be available on the new S550 Mustang. With the return of enthusiasts favorites like Competition Orange and Deep Impact Blue you can bet this will be popular attention-getters. We also see the return of the old trust colors such as Race Red and only of my personal favorites Oxford White. New to the 2015 Mustang are Guard, reminds me of a Dark Shadow Gray, and Magnetic which reminds me of a darker Mineral Gray color.
Race Red
Competition Orange
Triple Yellow
Deep Impact Blue
Ruby Red
Black
Magnetic
Guard
Ingot Silver
Oxford White
2015 Mustang Engine Specs
Big thanks to the guys over at StangTV.com for the pictures and breaking all the official detail on the S550 Mustang Engine line-up. It looks like the 5.0L Coyote motor is getting some serious upgrades and Ford has confirmed the 2.3L EcoBoost Turbo 4 cylinder is a go! Get some of the specs and official information below!
EcoBoost 2.3L Turbo Four Cylinder
Get all the details about Ford's new impressively powerful yet fuel efficent motor here - 2015 Mustang Engine Specs - 2.3L EcoBoost. The 4 cylinder 2.3L turbocharged engine is rumored to make roughly 300 horsepower and 300 ft-lbs of torque. With the combination of turbo power and good fuel economy, I think this will be a crowd favorite when it comes to engine selections.
This engine is an evolution of the 2.0 EcoBoost found in the Focus ST and other vehicles. We expect great things from this little engine as it allows for a lighter car, and hopefully some great performance numbers. "This EcoBoost engine delivers where a Mustang driver expects it to, with a broad, flat torque curve that pours out when you stand on it for easy passing or hustling down a twisty road," said Pericak.

Don Cesson: "Same Day Coverage: The 2015 Mustang Debuts"
305 HP & 300 ft-lbs of torque
Forged Steel Crankshaft and connecting rods
piston cooling jets
Aluminum block, oil pan and cylinder head for maximum weight savings
Revised 5.0L 4V Coyote V8
No surprises here! The GT model will feature Ford super popular 5.0L Coyote Engine. The Coyote motor will get a host of improvements and upgrades to help give it a bump in horsepower and will help it run into higher RPMs. I suspect that within 2 years we will see a major Coyote engine revision. See all the motor specs here: 2015 Mustang Engine Specs: 5.0L V8
The top end of the Coyote is all new starting with a brand new cylinder head casting that features revised ports for straighter paths to the valves, and less flow restriction. The heads also feature larger intake, and exhaust valves, and revised intake and exhaust camshafts will also contribute to the Coyote making more power, and breathing better all the way to redline. Stiffer valve springs will help the Coyote howl at higher RPMs as well.

Don Cesson: "Same Day Coverage: The 2015 Mustang Debuts"
Larger Intake & Exhaust Valves
Newly Revised Camshafts and Stiffer Valve Springs
Newly Designed Cylinder Head
Forged Connecting Rods
New Crankshaft Designed For Higher RPMs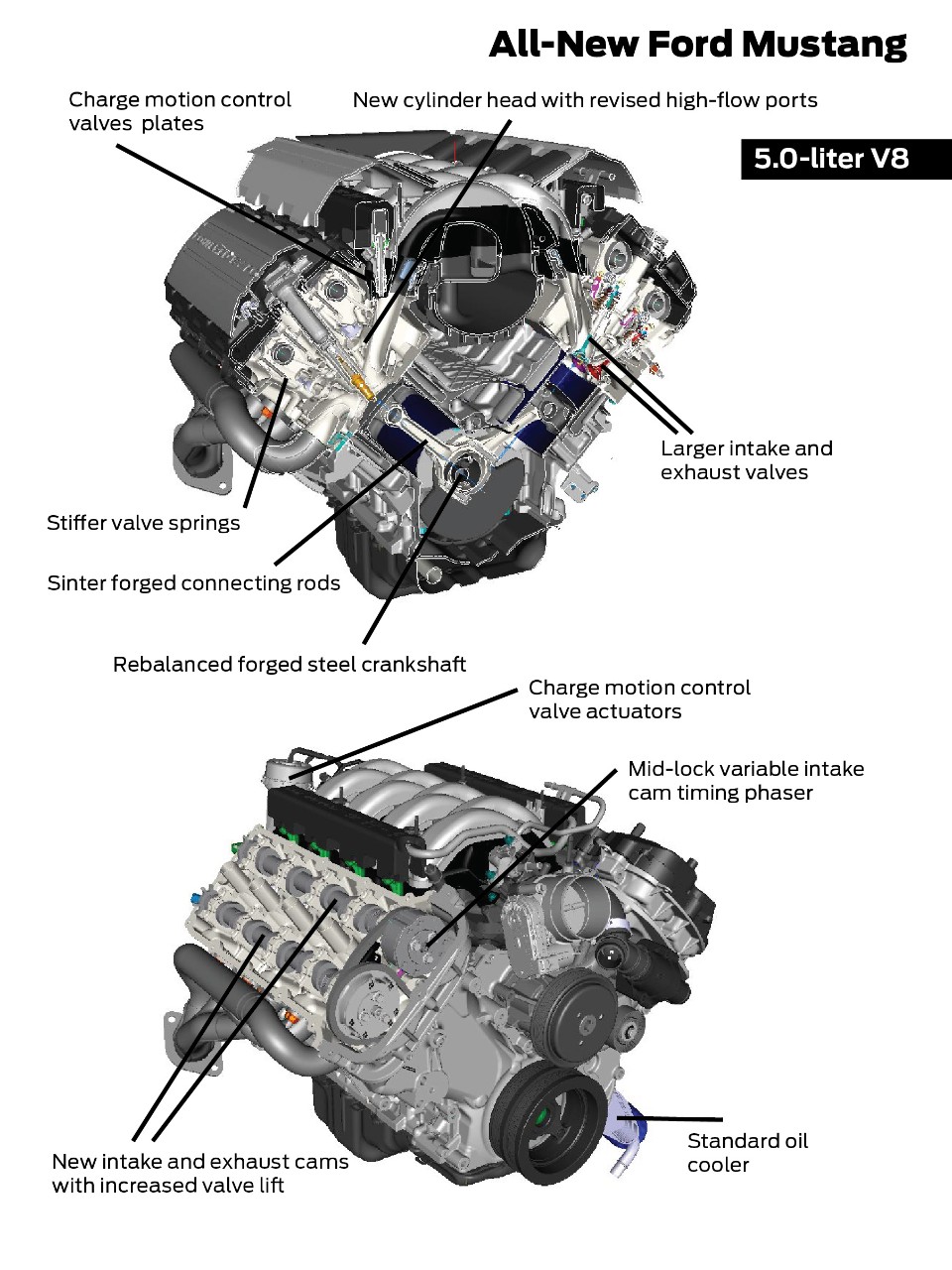 3.7L V6
Ford has announced the 3.7L V6 will carry over into the new S550 Mustang platform. They haven't released much information on it to date. It is safe to assume the same engine will carry over with a few minor updates and maybe even a bump in horsepower. You can get all the latest motor specs for the V6 Mustang here - 2015 Mustang Engine Specs: 3.7L V6
300 HP & 270 ft-lbs Torque
2015 Mustang Driveline Information
We will update this information as this information is released. It is all but confirmed by Ford that the new S550 Mustang will have an IRS system. Stay tuned!!
IRS (Independent Rear Suspension) & Revised Front Suspension
There have been some MAJOR changes to the 2015 Mustang suspension. Unless you lived under a rock, you have heard by now that the S550 Mustangs will be getting a IRS rearend. The IRS will feature an aluminum design that will help keep the weight off Ford's new Pony car. This is and will always be one of the most debated additions to the new Stang. When it comes to comfort and road racing this will be a major improvement. Many drag racers and those who have come to love the live straight axle design that Ford has held onto for so long will be disappointed. I am sure someone in the aftermarket will get to work on a fix for this.
The S550 Mustang will also see some major improvements to its front suspension. Gone is a "A" arm style lower control arms in exchange for a lateral and tension link style suspension that is popular on many European performance cars. These new additions will bring not only ride quality improvements but handling benefits as well – especially when the aftermarket gets their hands on these vehicles! Check out what StangTV.com had to say about these changes:
The front uses an all new perimeter subframe design to stiffen the structure while reducing weight. This design should help improve steering, braking, and ride quality. The subframe design allows for an all-new double ball-joint MacPherson strut fornt suspension. That revised suspension in turn allows for a wider array of braking options. Ford is promising no fewer than three brake system options, we may finally get a Mustang that actually wants to stop when you press the brake pedal.

Don Cesson: "Same Day Coverage: The 2015 Mustang Debuts"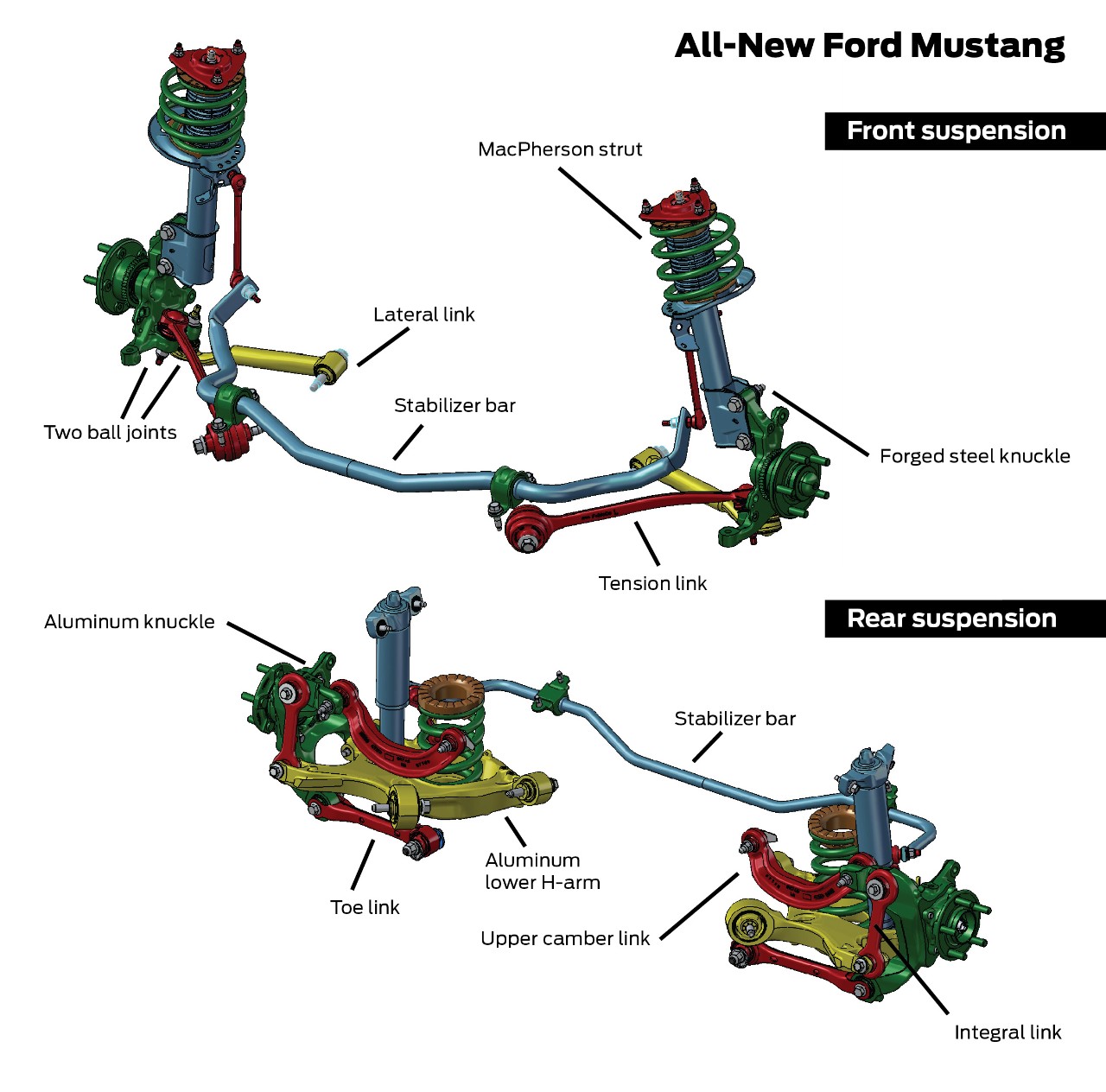 2015 Mustang Transmissions
The Getrag MT-82 standard transmission will carry over to the S550 Mustangs. There will also be a 6 speed automatic transmission as an option. As for the MT-82 Tranny, it will see some minor improvements to shift linkage. This will be a much needed update as the factory 2011-14 Mustang featured a shifter that felt like it had long shift throws and could use some reduction in "sloppy" feel. The 6 speed automatic will be getting a whole host of improvements and is rumored to have a steering wheel shifter paddle option. Check out what StangTV.com found out about the new 6 speed auto transmission:
In the automatic department a six-speed auto is once again available. The auto has been significantly revised. A new case with reinforcing ribs for added strength and reduced weight is part of the package. The clutches have been revised, and the transmission operates at higher temperatures for improved friction characteristics. The output shaft has a new ball bearing support, allowing for 155 mph top speed according to Ford.

Don Cesson: "Same Day Coverage: The 2015 Mustang Debuts"
2015 Mustang Packages & Options
Packages
2.3L EcoBoost Performance Package

14" rotors with aluminum four piston calipers on the front
Performance Tires - possibly staggered combination
Larger Radiator
Extra gauges added to the dash above the radio

GT Performance Package

15" rotors with Brembo 6 Piston Calipers
Standard Options
Launch Control Standard on GT Model
Revised TPMS system
Rain sensing windshield wipers
Separate Steering Control
Separate Stability Control
Sequential Tail Lights
Paddle Shifters for 6 Speed Automatic Transmission
Intelligent Access - Keys Aren't Needed To Open Doors Or Start The Car
Push Button Start
Ford MyKey
SYNC
Options
MyFord Touch with SYNC System - Touch Screen & Voice Activated
BLIS - Blide Spot Information System
Selectable Drive Modes - Snow, Wet & Sports
Adaptive Cruise Control
New Shaker Pro audio system
Heated & Cooled Seats
2015 Mustang Wheel Options
We will post up pictures of wheel sizes of factory available wheels as we get more information.
2015 Mustang Pictures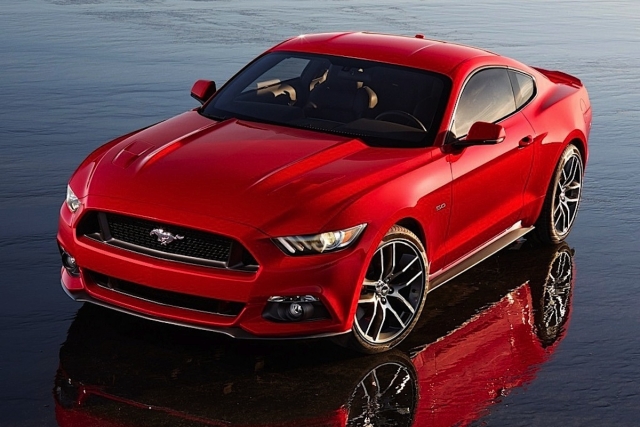 ---