2015 Mustang news and rumors are flooding the internet – Ecoboost v6, Ecoboost 4 cylinder, IRS (independent rear suspension),
S550 Mustang
platform name, test mules, spy shots, clay models picture leaks, computer renderings, no more v8, it floats on water and get 200 mpg. Ok well those last few are just me ranting and raving but it seems like every week we get new rumors and updates on the
2015 Mustang
. I think I am just a little tired of seeing zebra skin Mustang test mules driving around teasing all us Mustang enthusiast with what is to come in the new 2015 Mustang redesign. With the
Mustang 50th anniversary
right around the corner, I know we will be getting an official glimpse very soon – but I just can't wait.
One thing that isn't a rumor is this – here at LatemodelRestoration.com we can't wait to see and get our hands on a 2015 Mustang. You can rest assured we will be at the forefront of bringing you performance and other aftermarket parts for the 2015 Mustang – no matter what engine options Ford gives us. Until then, let's look at some of the rumors and spy spots together and you can go to our Facebook page and share what rumors you think are real and which you hope will be real!!!
UPDATE 12/05/13: 2015 Mustang Officially Revealed By Ford
Today is the BIG day! Ford will finally officially release the 2015 Mustang to the public. There will be tons of information going live all day. If you want to get all the latest details on the all new S550 Mustang be sure to go to the follow page as we will be updating constantly – 2015 Mustang Official Specs & Information.
UPDATE 12/04/13: 2015 Mustang Images Leaked By TIME
Time.com leaked some more 2015 Mustang images before Ford's big reveal that will take place on December 5th 2013. Unlike the earlier pictures that were over exposed, these pictures show off the new S550 Mustangs sharp edges and new look. You can still spot plenty of retro and modern Mustang inspired design mixed with some very new design aspects that have never been seen on Ford's Pony car. The exterior isn't the only thing that got a major overhaul. The interior got a whole new look that looks to be one of most impressive looking interiors Ford has done in a LONG time!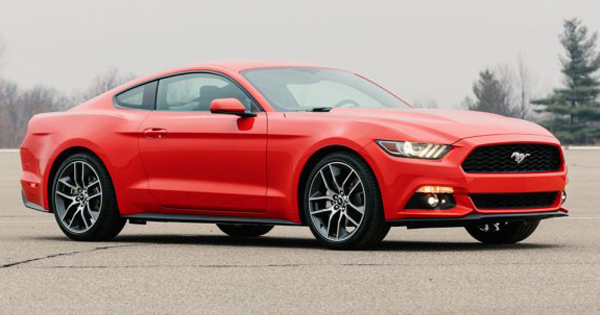 UPDATE 12/03/13: 2015 Mustang Images Leaked!!
Big thanks to the gang over at Jalopnik.com for getting these images! Looks like someone got their hands on some of the Ford literature that will accompany the Dec 5th official reveal of the S550 Mustangs. There is a log of Euro design going on in the new Pony car. I can't wait to see it in person to get a better look at it.
It's one of the most anticipated cars of the year, possibly the decade. And here it is, the 2015 Ford Mustang, an evolution of a classic that is still instantly recognizable as America's pony car. And now it's going worldwide.

TRAVIS OKULSKI: 2015 Ford Mustang: This Is It

UPDATE 11/29/13: Ford Mustang: Evolution of an icon
Ford just released an amazing teaser video on there YouTube Channel. In the video you can see a visual transformation of the Mustangs history. We are just days away from the 2015 Mustang reveal! Hope this can hold you over until then.
UPDATE 11/20/13: Ford Will Officially Unveil The 2015 Mustang Simultaneously Around The World
Ford Motor Company is set to introduce the S550 Mustang platform to the world simultaneously from six different cities/continents. Being that the new Stang is going to be built on a global platform and sold around the world, what better way to officially announce the sixth generation of the Pony Car. Look for FoMoCo to heavily lean on their #MustangInspires social media marketing efforts and you know you can count on use to bring you all the updated information as we get closer to the event!
In case you we're wondering why the 2015 Mustang will be unwrapped between two major auto shows - Detroit and Los Angeles - it's because Ford wants full coverage for the first ever pony that will be officially sold in Europe and Asia. In fact, the Detroit-based automaker plans to debut the musclecar simultaneously in six cities on four continents - Dearborn, New York, Los Angeles, Barcelona (Spain), Shanghai (China), and Sydney (Australia).

Ciprian Florea: 2015 Ford Mustang Debut to Take Place in Six Cities Around the World
UPDATE 11/19/13: Ford Officially Announced The 2015 Mustang To Be Unveiled On 12/5/13!
As we get more information on dates and times we will keep you updated! Stay tuned as it is about to get fun. In the meantime check out latest picture Ford teased us with on Twitter. The first look at the S550 Mustang!!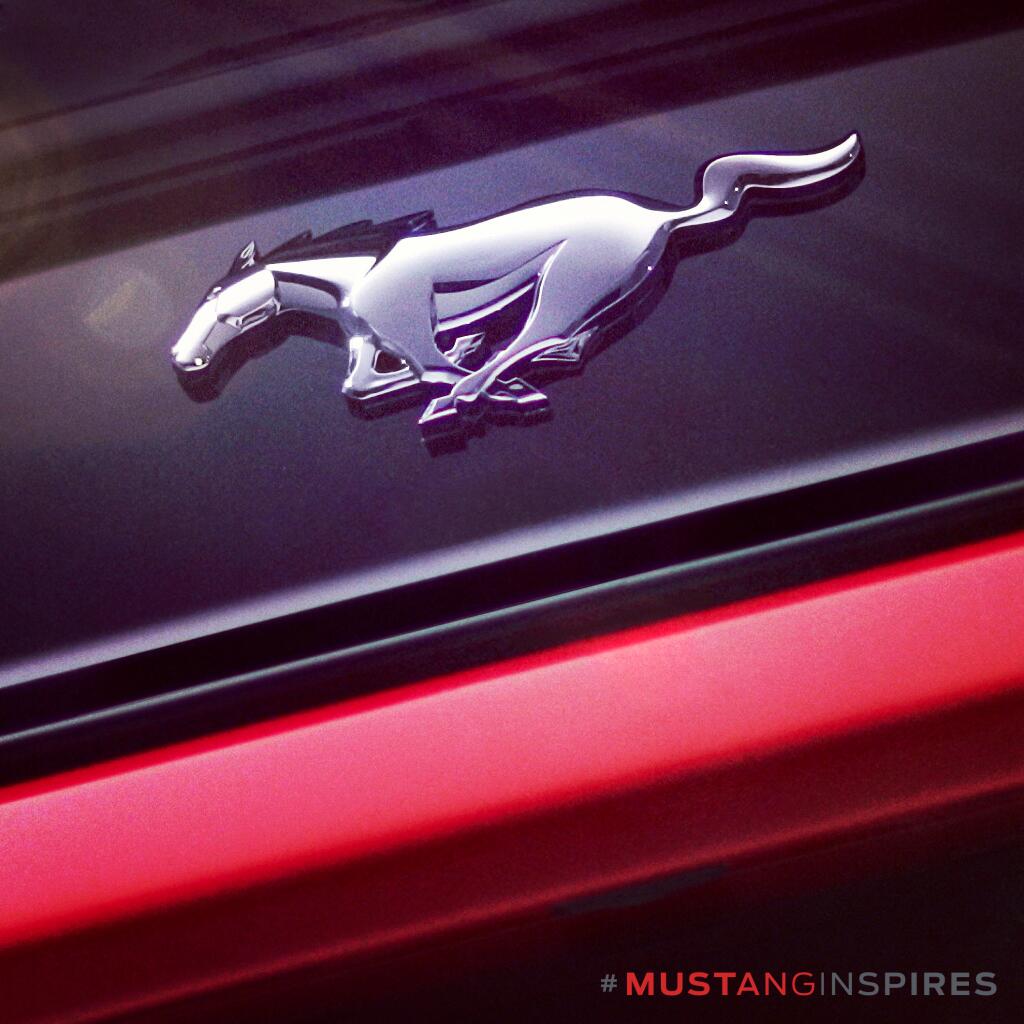 In case you we're wondering why the 2015 Mustang will be unwrapped between two major auto shows - Detroit and Los Angeles - it's because Ford wants full coverage for the first ever pony that will be officially sold in Europe and Asia. In fact, the Detroit-based automaker plans to debut the musclecar simultaneously in six cities on four continents - Dearborn, New York, Los Angeles, Barcelona (Spain), Shanghai (China), and Sydney (Australia).

AutoEvolution.com Author: Ciprian FLorea 2015 Ford Mustang Debut to Take Place in Six Cities Around the World
UPDATE 11/19/13: 2015 Mustang To Be Unveiled In Early December!
The official Ford Mustang YouTube Channel is stating that the something big in the Stang world is coming early Decemeber 2013. Are we going to finally get to see the full production S550 Mustang!?!? I sure hope so because all of these computer renderings and spy photos are getting old. I want to see concrete real world pictures! Ford is using the hashtag #MustangInspires to ramp up social media talk before the release. Check out one of these videos below and here is what the Ford Mustang Channel had to say:
On December 5th, Ford will take the cover off the all-new Mustang, the sixth generation of the iconic pony car that will celebrate 50 years in production next year. Ford is counting down to the next chapter in the Mustang story by inviting people to share their photographic stories of inspiration using the #MustangInspires hashtag on Instagram, Facebook and other social media platforms. The tagged photos and videos will appear on http://www.mustanginspires.com/.

FordMustang Channel #MustangInspires Instagram Countdown Video #3 By Mike Diamond
VIDEO HAS BEEN TAKEN DOWN BUT THE ABOVE INFORMATION IS WHAT WAS IN THE VIDEO DESCRIPTION -- DID FORD FORGET TO TURN THEIR VIDEO TO PRIVATE??? OR IS THIS ALL A HUGE MARKETING PLOY?? COMMENT BELOW AND LET US KNOW WHAT YOU THINK!
UPDATE 10/7/13: 2015 Mustang Ecoboost Boost Gauges Pictures Surface
More and more spy pictures are starting to surface on the internet. We came across this picture showing off the center LCD screen on the S550 Mustang. As you can tell from the picture, this is a boost gauge which means this has to be from the new Ecoboost powertrain! The public release can't come soon enough. I'm hoping the rumors of Ford announcing the production version in December 2013 are true. I can't wait to see how this turbo Mustang will look in person. What are your thoughts on the digital boost gauge?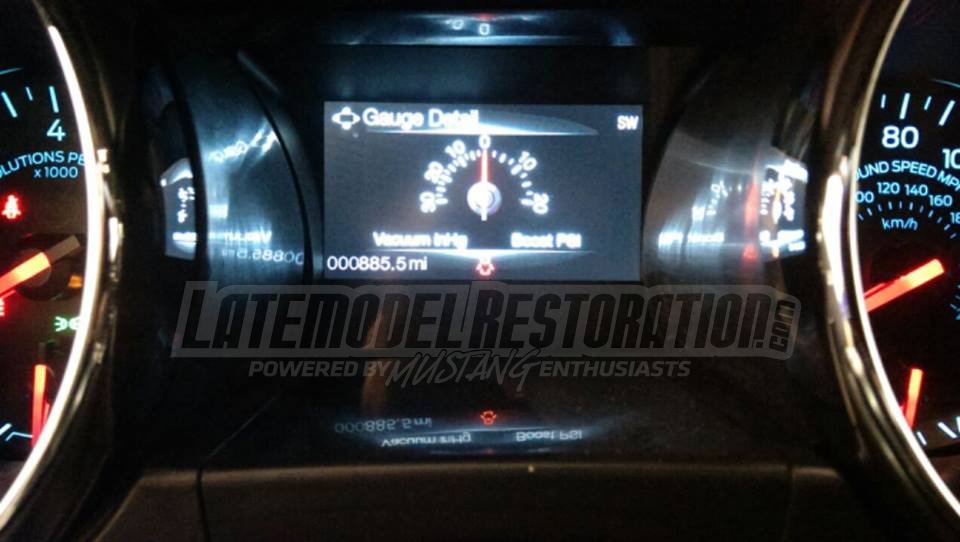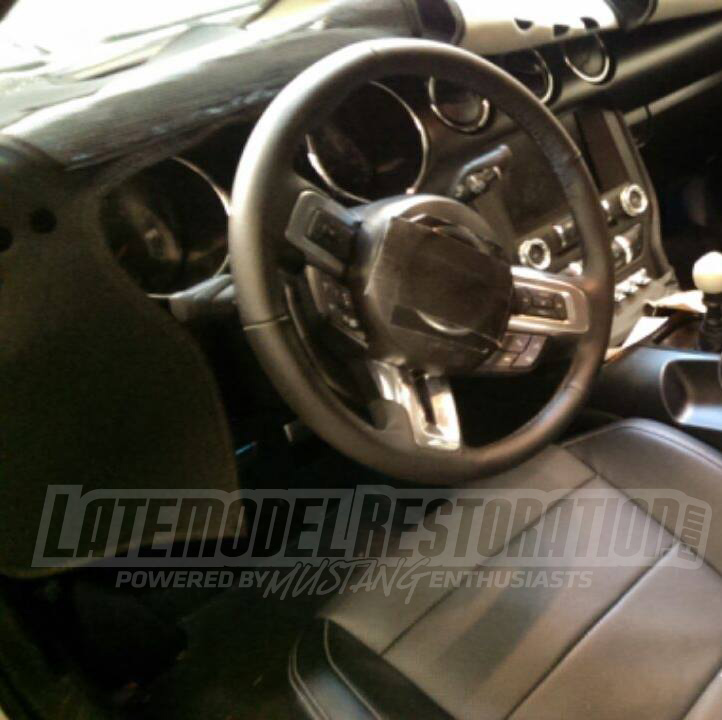 UPDATE 10/4/13: 2015 Mustang Instrument Cluster
It looks like someone was able to sneak a peak of the S550 Mustang instrument cluster. Some of the most noticeable pieces of eye-candy are the roughly 4" LCD center display. I've got my fingers crossed that the 4 cylinder Ecoboost version will get a digital boost gauge. In the picture below you can see it reading Intake Air Temperature. It also appears that this will be the final steering wheel as well - being that it is hiding the running pony logo. You can also see the MyFord Touch display and some very polished control knobs. Another bit is the return of the circular air vents. What do you all think? Hot or Not? Comment at the comment and give us some feedback on what you think about the 2015 as it is starting to come to light!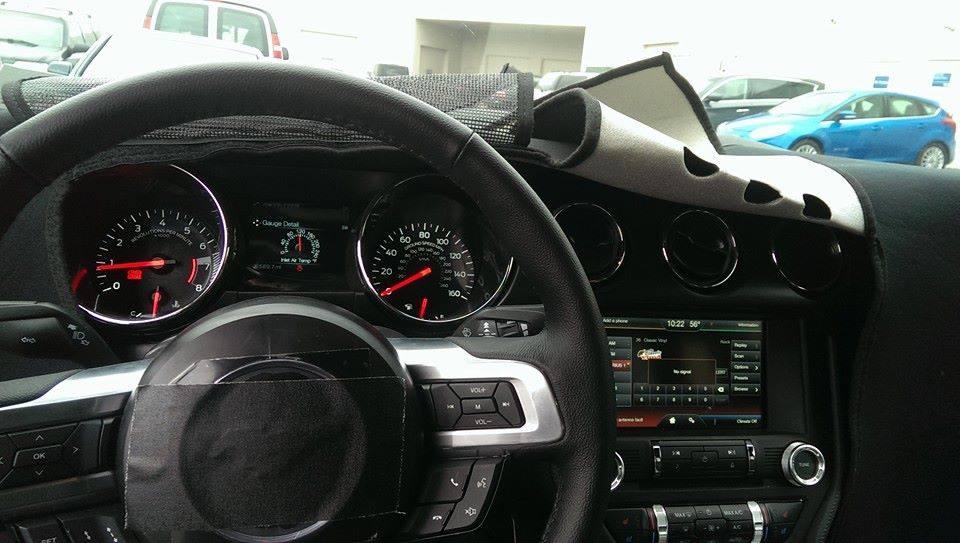 UPDATE 10/27/13 – 2015 Mustang Engine Line-up Survey
Did the 2015 Mustang engine line-up get revealed by a survey going around on the internet? Seems a little farfetched but it looks like there is a survey on the internet probing Mustang enthusiasts about what options they want to see in the new S550 Mustang. Many of the rumors engines, transmissions and options are found within this survey. Check out some of the images below to see more of the options that were polled in the survey. Here are some of the noticeable ones:
3.8L V6 Engine Standard (300 hp/290 ft-lb; 19/29 MPG) $0 Base
2.4L I4 Turbo (310 hp/310 ft-lb; 22/32 MPG) $560 over base
4.9L V8 (430 hp/396 ft-lb; 18/28 MPG) $1,890 over base
HID Headlights $645 Option
Blind Spot Monitoring $475 Option
Adaptive Cruise Control $1,125 Option
Remote Start $190 Option
GTDI Performance Package $2,410 Option
V8 Performance Package $2,915 Option
For more details check out the full article at autoevolution - 2015 Ford Mustang Engine Lineup Revealed by Survey.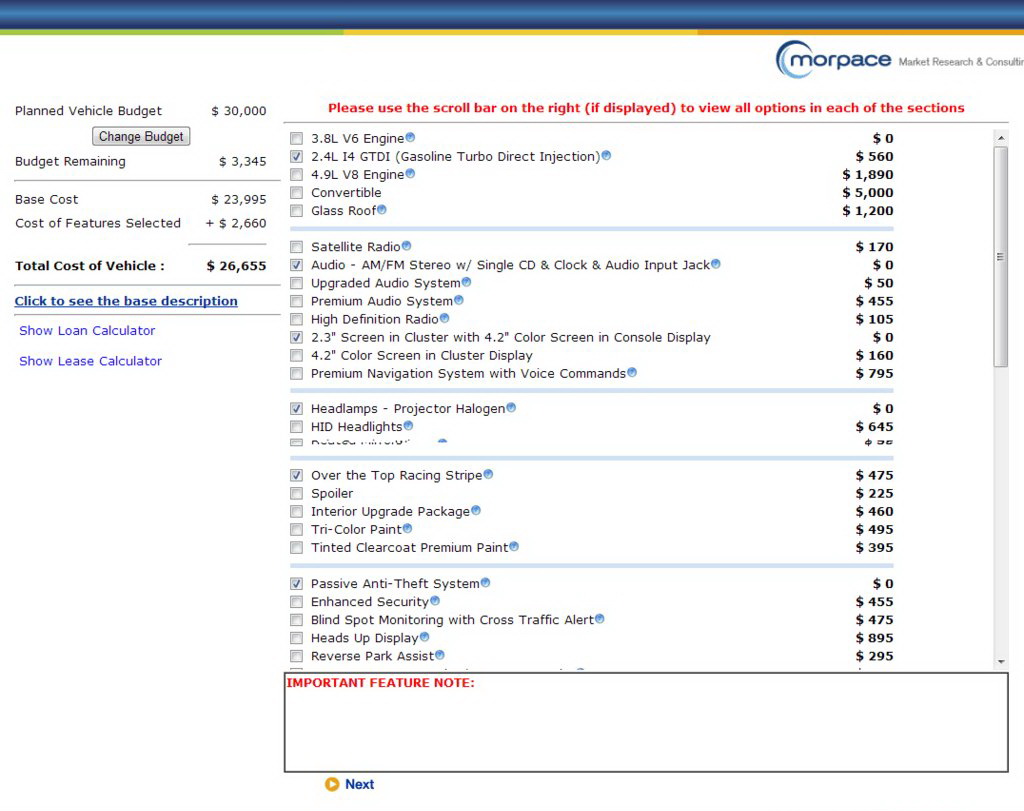 UPDATE 10/28/13 – 2015 Mustang 360 Degree 3D Model Leaked
The latest updates on the 2015 Mustang are some good ones! Looks like Ford is getting ready to pull back the veil on their new S550 Mustang! This could be happening as early as December 2012 according to many sources. Big thanks to the gang over at CarAndDrive.com for breaking the latest 3D renderings that very well could be the final production version we will see at the Ford Dealerships some time in 2014. See the full 360 degree model here – 2015 Mustang 3D 360 Degree Model Leaked. Looking at these latest 3D renderings, I think that the new Stang looks more like a Mustang than it did in some of the early renderings we saw. It definitely was inspired by the EVOS, new Fusion and even a little bit of Ashton Martin. Stay tuned as more information is sure to break soon as we are inching closer and closer to Ford unveiling!
In the final shape, a pair of large vents resides on the front of the hood, creating the appearance of flared mustang nostrils that hint at the power lurking beneath. The rear window features a sort of widow's peak extending from the roof, à la the SRT Viper, and the side windows feature a more ­cohesive shape—as opposed to the quarter-windows separated by fat B-pillars on the current car—with an upward kink that resembles the new Corvette's treatment.

Jens Meiners & Austin Lindberg: Leaked! This is (Almost Definitely) the 2015 Ford Mustang: Exclusive 360º View and Full Details!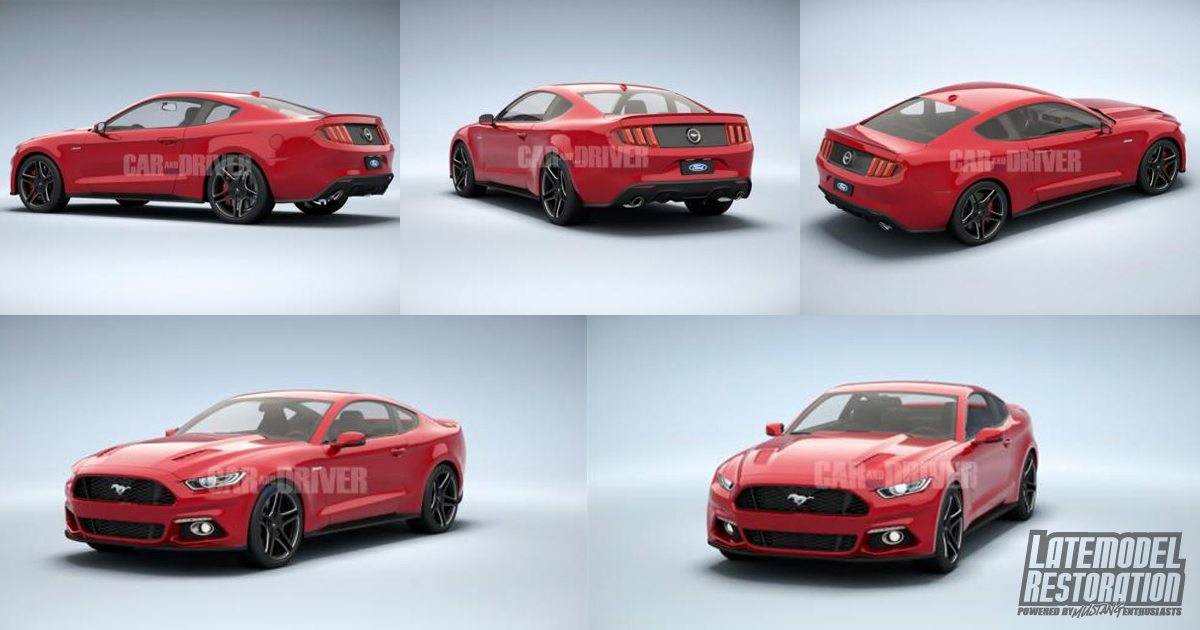 UPDATE 10/26/13 – 2015 Mustang Convertible Spy Shots
We have been so focused on the 2015 Mustang spy photos and S550 SVT GT350 special edition videos that we almost forgot that the Stang isn't just a hardtop Pony Car! Thanks to Leftlanenews.com for releasing some spy shots of the new S550 convertible prowling the streets! Be sure to check out their article for more details - SPIED: 2015 FORD MUSTANG CONVERTIBLE!
Our spies managed to nab the topless version of Ford's ponycar while it was testing not far from the automaker's operations in Michigan. Like the 2015 Mustang coupe, which has been spied numerous times before, the convertible will have an all-new look inspired by the automaker's Evos concept car. Our spy shots reveal a neat soft top, not the folding metal hardtop that had once been rumored (such a feature would be expensive and heavy, and given the relatively low sales volume of the Mustang convertible, it simply doesn't make much sense.

Andrew Ganz: SPIED: 2015 FORD MUSTANG CONVERTIBLE!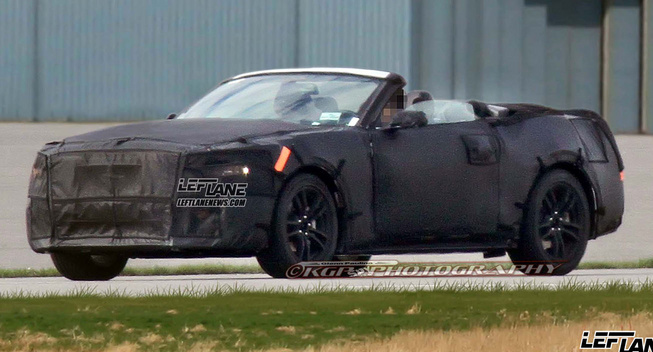 UPDATE 10/07/13 – 2015 Mustang Front End Spy Photos
HUGE thanks to the guys and gals over at autoweek.com for breaking this one. Looks like we getting closer to production pictures for the S550 Mustang! I really like the front honeycomb grille and the black housing style headlights. I also like that the fog lights have been moved down to the lower grille along with the turn signal lights. Comment below and let us know what you think about these new spy photos for the 2015 Mustang front end!
The 2015, or 2014.5 depending on who you ask, Ford Mustang will go on sale next April, on the car's 50th anniversary. It will most likely arrive fwith four-, six- and eight-cylinder engines and for the first time an independent rear suspension. We've already seen a few spy shots of the next Mustang testing, but these pictures supplied by someone on the inside give us our first good look at the front end.

Jake Lingeman: 2015 Ford Mustang front end spy shots

UPDATE 10/01/13 – 2015 Mustang Interior Spy Photos
More spy photos have surfaced showing off the interior of the 2015 Mustang. If all the test mule spy shots and videos haven't already gotten you excited about the new S550 Mustang and then the interior should help. The interior received some much needed refinement and technology upgrades! The steering wheel features more buttons than a NASA spaceship. We are seeing new features such as push button start, paddle shifters rumors are flying around and yes it looks like we will finally get a full touch LCD center dash! Big thanks to Car&Driver.com for breaking this news. See more information here: 2015 Mustang Interior Pictures.

UPDATE 9/26/13 – 2015 Mustang GT-350 Video and Spy Photos
The 2015 Mustang release is just around the corner and so far we know that there will be a GT model with 5.0L Coyote engine that will be sure to get a slight boost in horsepower. There will also be a base model with Ecoboost 4 cylinder engine and a V6 engine option as well. With the most recent spy photos that have surfaced, there is now a new model being thrown into the mix. Rumors have it to be the S550 Mustang GT-350 that will be released after the 2015 hits the street. Others believe it could be a 2015 SVT Cobra version that many of us have been patiently waiting to see! There is even a video of this prototype on the roaming the street and all I can say is wow! I hope this aggressive exhaust makes it to the final production model! See more info here: 2015 Mustang GT350 Video Released.

Update 9/13/13 – 2015 Mustang Renderings From Latest Spy Shots
Tons of 2015 Mustang renderings and drawings have been released from the latest Mustang spy shots that were released. Since the latest spy photos showed off the front end without any covers, this opened up a whole new round of computer aided renderings! You can check out all the latest S550 Mustang renderings and pictures here – Best 2015 Mustang Renderings.
Update 8/20/13 – 2015 Mustang Shows It's Front End!
Some lucky guy spotted the S550 Mustang running with a couple Boss 302s on the track. Now I'm sure you are thinking no big deal we have seen plenty of spy shots over the last few month. Well this time they caught the 2015 Ford Mustang without any front covers on it. You can see the article and tons of pictures here - 2015 Mustang Loses Some Camouflage. It has a very aggressive front end that reminds me of a new Ford Fusion. You don't want to miss out on these pictures!

Update 8/16/13: Weight Reduction
Recently StangTV.com released some great news , if the rumor is true. They are reporting that the 2015 Mustang will be roughly 400 pounds lighter and will also be roughly 15 inches shorter. This will not only help improve the fuel economy but we all know that less weight means better performance. Combine the weight reduction talks with the increased Coyote Engine horsepower talks and the new S550 Stang should be a rocket. Now I'm sitting around wondering if Ford Racing might just make some kind of straight axle conversion kit.
No one can deny that over the past 49 years, the Ford Mustang has consistently become a bigger, heavier car (with the exception of the Mustang II). The original 1965 Mustang debuted with a curb weight between 2,400 and 2,800 pounds, but today's Mustang can weigh anywhere from 3,500 to nearly 3,900 pounds. With weight being the enemy of both performance and fuel economy, Ford knew they had to put the Mustang on a big diet if the pony car is to continue to survive in the coming era of higher government C.A.F.E. regulations.... Extensive use of lightweight materials, most prominently aluminum, will also help the Mustang keep the weight off. Ford is already rumored to be using aluminum extensively throughout the next generation F-150. It would make sense then that they'll be doing the same on the Mustang.

Chris Demorro: 2015 Ford Mustang To Lose 400 Pounds vs Current S197 Model
2015 Mustang Rumor: EcoBoost & 4 cylinder engine
This rumor seems to be going around and around in circles. Every major automotive magazine and online site has their opinions on this. Rumors range from EcoBoost v6 to EcoBoost 4 cylinder engines. All I know is Ford would be crazy to not use an EcoBoost engine in the Mustang. Car companies are just starting to figure out people like turbochargers, they like boost and the like being "green" if they can still go fast. Just look at the sales of Ford's other models that offer EcoBoost - People are willing to pay more for that engine option. Me, I just like boost. So I sure wouldn't mind a flash back to the days of the turbo SVO Mustang. A turbo Mustang with an IRS would make for a fun road course car - which leads to the next big rumor!
Powertrain: The Mustang's 3.7-liter V-6 and 5.0-liter Coyote V-8 will return for 2015—possibly with the addition of direct injection—but will be joined by a turbocharged EcoBoost four-cylinder engine. Ford already confirmed that an EcoBoost is headed for the Mustang, but didn't specify when. We're told it will arrive with the redesigned model—and not before—and that it likely will be Ford's 2.0-liter mill.

Alexander Stoklosa: 2015 Ford Mustang Spy Photos

2015 Mustang Rumor: IRS (independent rear suspension)
I think this is all but confirmed. There have been plenty of spy shots showing an IRS system being used on the 2015 Mustang test mules. Even un-named Ford officials have stated that this one is 100% confirmed. I won't put the last 0.1% stamp on my 99.9% sure this will happen statement until I see it but I think it is safe to say it is confirmed that the 2015 Mustang will have an IRS. The bigger questions are will this be an 8.8 rear end at its core as seen in 03-04 Cobras? Hopefully this will be a very strong and solid rear end that can take the abuses of some hard drag launches. If not, I know we can count on the aftermarket to fix any weak point found in whatever rear end gets put under the 2015 Mustang.
Which brings us to the car in these spy photos—it clearly has IRS. A suspension arm is visible in the rear shots, and the rear wheels have a healthy amount of camber. We've learned most of the length reduction will come from the car's rear overhang, and the width adjustment is visible on this test car's ill-fitting roof panel. Both coupe and convertible body styles will again make production. Although the prototype car in these photos is wearing current-gen retro-look Mustang body panels, we expect that the 2015 car's cosmetics will fall somewhere between that model and Ford's recentEvos concept car.

Alexander Stoklosa: 2015 Ford Mustang Spy Photos
2015 Mustang Clay Models and Computer Renderings
There are no shortages of computer rendered pictures of what we can expect to see when Ford displays the new 2015 Mustang for the first time. All tend to be relatively similar in the fact that this Mustang will take some styling cues from the 2013 Ford Fusion and the Ford Evos concept car. Some sites even claim there are leaked 2015 Mustang clay model pictures – I'll let you be the judge on that. I don't see Ford letting anyone take pictures in their super-secret design rooms. There are a lot of creative renders and ideas out there of what the 2015 Mustang will look like. I just ask that Ford inject a little iconic Mustang into this new redesign – I don't want it to lose its heritage in this new "world wide" platform they are designing.

---