details
transcript
Video: 2015 Mustang Renderings, Spyphots, Rumors & News
Published on 2013-10-24
Description
Get all the latest 2015 Mustang News & Rumors here: http://www.latemodelrestoration.com/products/2015-Mustang-News-Rumors

Can't wait for 2015 Mustang to get here? We can't either! Check out all the latest news, updates, rumors, renderings, spy shots and videos in the links below. You can count on us to keep these links updated as we get more information. Feel free to comment below and let us know what S550 Mustang rumors are true. We have heard everything from IRS (independent rear suspension), EcoBoost turbo engine, 4 cylinder motor, more horsepower in the 5.0L Coyote engine, and plenty more.

The Best Renderings
http://www.latemodelrestoration.com/products/2015-Mustang-S550-Renderings

2014.5 Mustang: Limited Anniversary Edition
http://www.latemodelrestoration.com/products/2014-5-Mustang-Ford-Will-Release-Limited-Anniversary-Edition

Spy Shots
http://www.latemodelrestoration.com/products/2015-Mustang-Spy-Shots

Prototype Spy Videos - 2015 Mustang Exhaust clip
http://www.latemodelrestoration.com/products/2015-Mustang-Video-Prototype-Driving-On-Street
http://www.latemodelrestoration.com/products/2015-S550-Mustang-Prototype-Spy-Video

Picture Proof of IRS
http://www.latemodelrestoration.com/products/2015-Mustang-Will-Have-IRS-More-Proof


Don't forget to check out our Mustang 50th Anniversary News as well. The Mustang Club of America (MCA) will be putting on one big party in both Las Vegas and Charlotte. Mark your calendar - April 2014 is just around the corner!!!

http://www.latemodelrestoration.com/products/Mustang-50th-Anniversary-Birthday-Celebration-News-Cruises-Updates
Transcript
JONATHAN MCDONALD: For the 50th anniversary, Ford is gracing us with a whole new Mustang platform in 2015. We're just as excited about this new Mustang as you are. Latemodelrestoration.com is your source for news, tech, and parts, as well as 50th anniversary news and updates. Stay tuned as we're going to pull the cover off this thing and show you what she looks like underneath.
2015 Mustang Loses Some Camouflage
Posted 8/20/2013 by Jeff Jimenez
FOLLOW: 2015 mustang , mustang , s550 , video , news , spy shots , 79 93 mustang , 94 04 mustang , 05 09 mustang , 10 14 mustang
Huge thanks to MotorTrend.com for releasing these pictures! Looks like they finally caught the 2015 Mustang test mule driving without front camouflage covers. See the original content at MotorTrend.com. There is a whole bunch of interesting stuff going on in these pictures. If this is the real front end that will end up on the S550 Stang, there is a huge departure from the current Pony styling. The front end features some very aggressive styling (the more I look at these pictures – the more I'm starting to like it). To me the styling is less EVOS concept and more 2013 Fusion inspired. I do see plenty of space for air cooling ducts for brakes and for a turbo intercooler. So these pictures provide more evidence of EcoBoost engine rumors. I don't see any provisions for fog lights in the upper grille. This would be the first time the GT model would not have fog lights in the grille since 2004!
Beyond the aggressive front end styling, I do see more confirmation of an IRS (Independent Rear Suspension). I also noticed some very aggressively flared side skirts and rear bumper valance. Please comment below and let us know your thoughts!!
2015 Mustang Spy Photos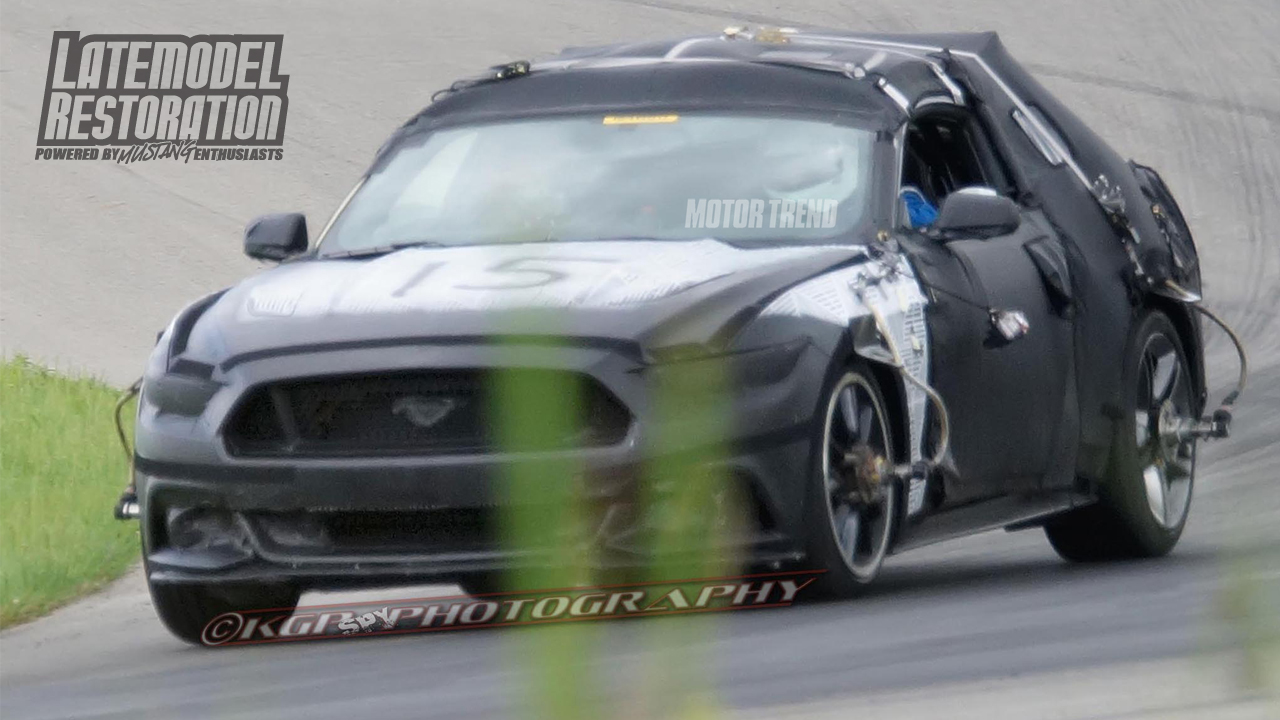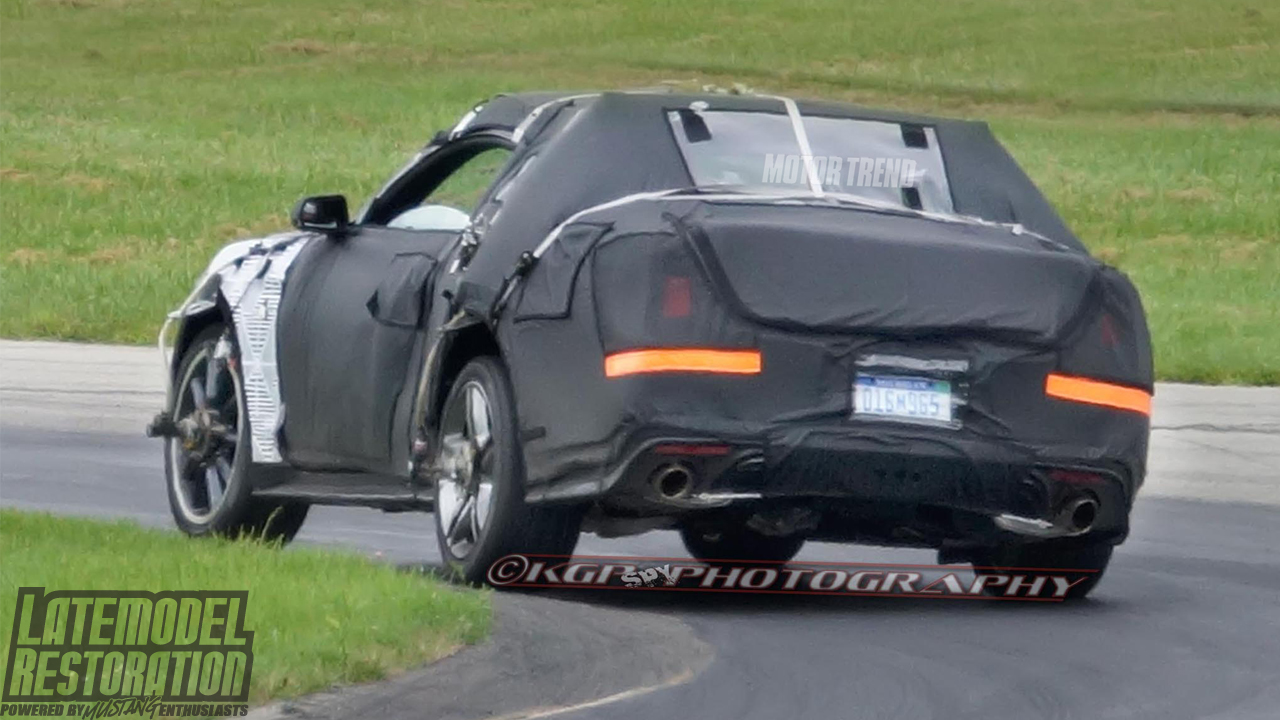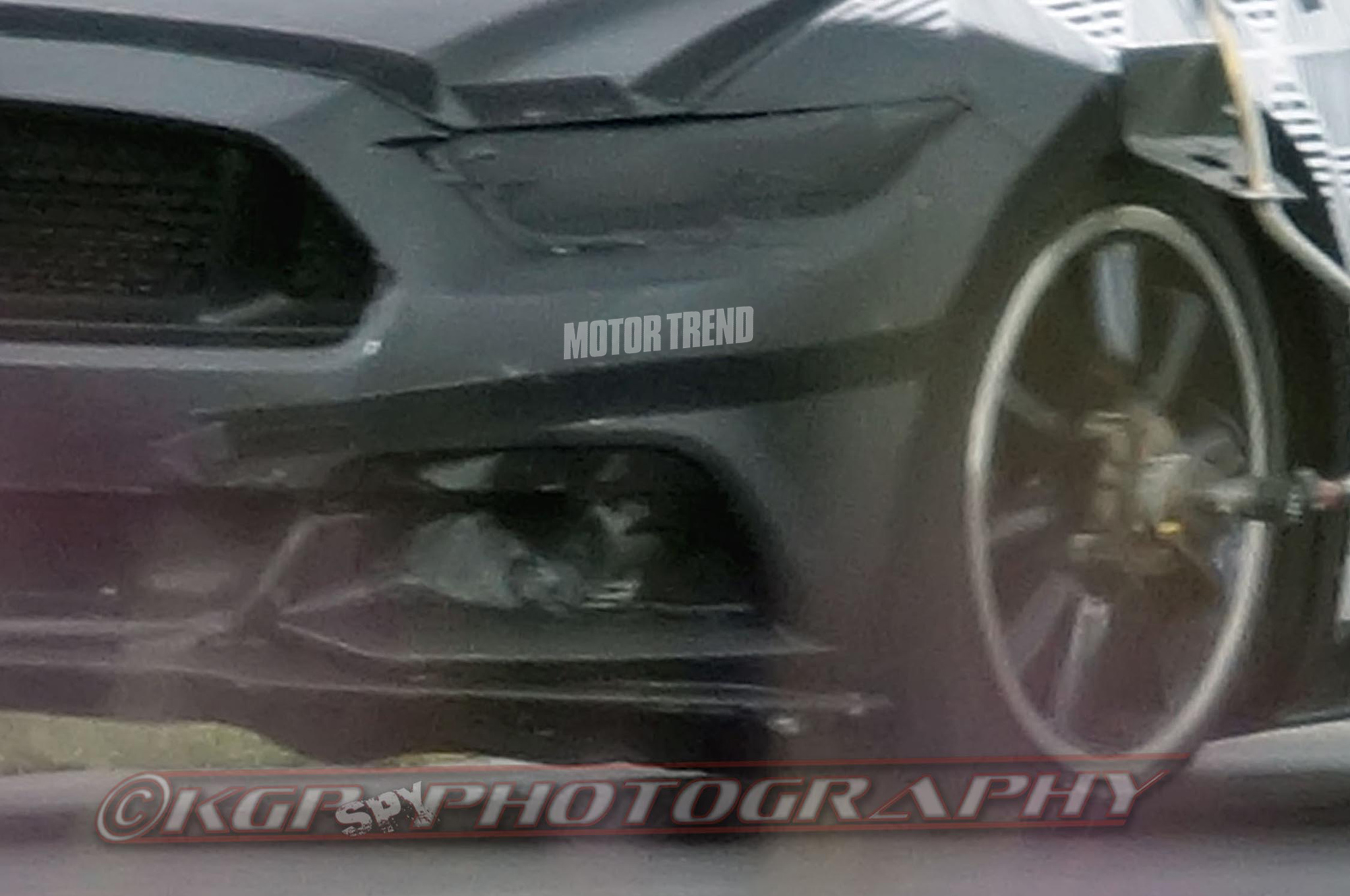 ---
See More 2015 Mustang News & Rumors
Don't miss out on any of the S550 2015 Mustang News and Rumors! Click on the link below for tons of articles, pictures and videos!