WHEELS - Lifetime structural warranty
Wheels are one of the biggest and most expensive purchases that you will make for your car or truck. That's why LatemodelRestoration.com wants to make sure that you are happy with your purchase. LatemodelRestoration.com is so confident that our wheels are the best in the market that we offer a LIFETIME warranty on all of our wheels regarding physical defects that hamper the construction of the wheel. We will also replace the wheel if the wheel arrives to you warped, out of round or has other physical defects. Latemodel Restoration will replace your wheel at our discretion of damages based on digital pictures emailed to Latemodel Restoration excluding freight.
WHEELS - 2 Year Warranty on Finish
Many people are concerned about the finish of their wheels flaking off or the paint starting to peel. LatemodelRestoration.com offers only high quality wheels and we offer a 2 year warranty that has you covered! We will replace your wheel at our discretion of damages based on digital pictures emailed to LatemodelRestoration.com excluding freight.
This 2 year warranty excludes any wheels that:
Are damaged due to alterations, neglect, abuse or other misuse, including harsh cleaning chemical or polishes. Soap and water are recommended for cleaning wheels.
Were used for racing or other off-road use.
Have been used in harsh weather or been affected by road chemicals including salt.
Have been installed incorrectly.
Have had other wheel accessories added that did not come with the wheels.
Warranty is void on title transfer of car or if wheels change hands from original purchaser.
---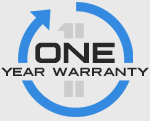 LIGHTING - One Year Worry Free Warranty
Although the manufacturer does not always warranty their products, we do!
If you consider buying lights from Latemodel Restoration Supply you can be assured that we will stand behind them! We only use the best possible manufacturers when selecting our products.
We have heard of other companies telling their customers to bake their lights in an oven or run silicone around the seams to fix or prevent leak issues. Not here! If for some reason there is a defective light assembly we will simply replace it, no questions asked, for 1 year from the date of purchase. Not only do we like to offer our customers the best value, we back it up with the best service!
Limited to the replacement value only. All defects replaced at our discretion. The customer is responsible for returning defective units to us for the exchange. For more details please contact your Latemodel Restoration Supply customer service representative at (254) 296-6500.
---
TIRES - Warranty
The tires we have chosen to offer have been carefully selected for quality, performance and durability. We believe that you will not have any issues with our tires materials and workmanship during the tread life of the tire. If an issue does arise each tire manufacturer offers a limited warranty and Latemodel Restoration will assist in every way possible to resolve the issue for our customer. Here are the highlights of the limited warranty. Give us a call if you need further information.
Eligible Tires
You must be the original purchaser of the tire
The tires were used on the vehicle on which they were originally installed
The tires are the correct size and load rating for the make and type of vehicle
You properly maintained and used the tire
Workmanship and Materials Limited Warranty
Latemodel Restoration warrants all eligible tires in concurrence with the manufacturer's limited warranty. Upon examination of an eligible tire Latemodel Restoration will replace the tire with a comparable new tire of the same brand as follows:
First 1/32" worn: The tire manufacturer will replace, free of charge, any eligible tire determined to have uniformity issues.
Less than 25% worn: The tire manufacturer will replace, free of charge, any eligible tire when the original usable tread is worn by 25% or less and within 60 months from date of purchase.
More than 25% worn: Eligible tires within the 60 months from date of purchase will be prorated. The prorated tire is determined as follows: (Original usable tread worn) ÷ (Original usable tread) x (Actual current dealer selling price) All mounting and balancing costs, taxes,and any other charges are to be paid by the purchaser.
What Is Not Covered
Irregular or excessive treadwear due to incorrect inflation; overloading; vehicle misalignment; failure to rotate tires; and poor or defective mechanical condition to brakes, shocks, and wheels; or any other factors attributable to the vehicle or wheel.
Any tire that has been run with low inflation pressure or while flat.
Damage due to abuse, vandalism, tire alteration, tire spinning, racing, or other competitive activities.
Damage, corrosion, or deterioration from using oil-based chemicals, water-based sealers, balancing substances, or flammable gases.
Damage from improper use of tire chains
Tires with the DOT identification number removed or rendered illegible